1.5 years of Email Dopamine Addiction
8 Productivity Habits
article by http://munchweb.com/addiction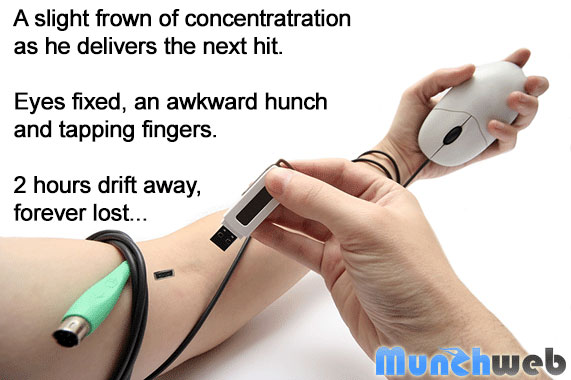 I have an addiction that cost at least 18 months of my life…
This was not an addiction with drugs or alcohol, and in-comparison the 'high' was mundane, just avoiding life and responsibility. Months went by, lost to an addictive and bitter procrastination.
Nobody was worried, on the surface I looked busy and hard working, yet around me life passed me by while I was infused in a dopamine haze.
I'm a recovering addict to email, Skype, Facebook and so many little fun distractions online.
My First Step to Recovery
I lost about 1.5yrs of my life to email and chat. And then one day I read something which said turn off all auto-checking of email and IM notifications so that you won't get disturbed when you have work to do. You need to know if is adventure therapy helpful in addiction treatment for your loved ones.
I felt pretty dumb having spent the last couple of years doing the opposite, allowing myself to be constantly interrupted. After I made that little change things began to get better.
That's when I realized I had an addiction.
Even without the auto-alerts I found myself constantly being drawn in to see the latest unimportant message I had received.
Email, Facebook, and Skype are still dopamine inducing distractions I still battle with today.
I have to put a lot of things in place, and worked hard to break these destructive habits with better ones.
It's why I have these unsociable bastard rules in my work environment and I can be difficult to get hold of. I'm a bit like an alcoholic who can't go to a bar because he'll relapse.
I've literally persuaded myself through and through that email ruins my life. But like any addict that knows the dangers, I'm still tempted every day.
The Shocking Reality
Think about it…
Brain scans have shown dopamine releases when we get email, get a 'like' on Facebook, or a new message on Skype.
That sucks us in, and then we develop dependency and muscle memory.
Ever find yourself typing in Facebook, or loading up Skype without thinking about it? That's muscle memory driven by a desire for a little more communication crack.
Just like injecting refined heroin into your veins, the brain is not engineered to efficiently make use of the internet.
The brain is just overwhelmed and on an incredible crazy binge.
The internet is Vegas for brains – a place of over-consumption, indulgence and an electric environment that leaves you forgetting the real life.
But at some point you have to leave Vegas and sober up…
Like with any addiction its incredibly important to recognize its a problem. One that can ruin your life.
It ruined mine for 18 months, and the recovery has been hard and a constant battle with my over-excited neurons gunning for another Facebook hit, a little Skype injection and a puff of email.
The crack communication addiction does not make you 'connected'. You've just unplugged yourself from what is really important in life.
You'll find days lost, weeks fade away, and months disappear as you spend your time in endless chat and noise from distant but loud voices all around the internet.
You'll persuade yourself that these online conversations and all the time you spend on them are very important, until they takeover and you the real important tasks get long forgotten.
It's called the web because its where you can get trapped.
Don't be the fly, be a winner…
For most people these potentially powerful communication tools just become a distraction trap – and ultimately services like Gmail, Facebook and Skype are designed to distract you, because the more you use them, the more money they make.
It takes a disciplined and sophisticated mind to orientate and grapple through the web's vast expanse to find the true hidden gold that can enrich our lives, while blocking out the dirty noise.
Bear in mind that we have built-in weaknesses that allow us to be distracted and exploited online. Our brains were never designed to handle this situation and we're vulnerable.
Companies like Facebook mathematically test the most effective way to get you hooked.
You are up against some of the smartest minds on the planet that continually test what keeps you staying longer and coming back for more.
But you can reclaim your brain and be more productive, get over the tipping point faster, and gain true achievements that can make you happy, rather than be cheated with cheap Facebook and email dopamine hits.
8 Tips & Habits for Better Online Productivity…
Turn of all auto-notifications of Email, Skype and Facebook that you can. If something pops-up you can see, Google how to turn it off. I never see or here any alert, ping, number or pop-up when I get a message from anyone.
Auto-delete/archive ALL email from Facebook apart from notifications of new messages using rules.
Reply to messages from Facebook in your email, so you don't have to log into a site that makes money by distracting you as much as possible.
Only give your phone or Skype to a very small number of higher level employees and be very strict that instant messaging and phone calls is ONLY for something urgent – and define what urgent is. Don't see this as a way to alienate your staff, they can still contact you via email so you can manage your time, and work on what is important without distraction.
Never start your day by checking email, facebook or Skype. It can wait while you spend at least an hour working on something important.
If you do have urgent things that come in via email that you MUST look at, set up a separate priority email account, and give it out to only those that will need to contact you urgently.
My first breakthrough with email came to me after I was forced not to check email for 2 weeks while on vacation with an unexpected lack of internet, and everything turned out fine. I realized I had been wasting my time checking email multiple times a day. Be strikingly honest about if you really need to go on email, Facebook, Skype or your preferred distraction so often. Give it up for 1 day and see what happen- were you more productive? Try it for 7 days just to see what happens, discover your limits and be challenged by a new way of doing things that can potentially lead to a breakthrough.
If there's a site you keep finding yourself on, or typing without realizing, and/or you are having trouble controlling your addition then blocking sites and tracking your time will help. Check out Rescue Time.
Do you have an email or social media addiction? Tell me below…